19 April 2014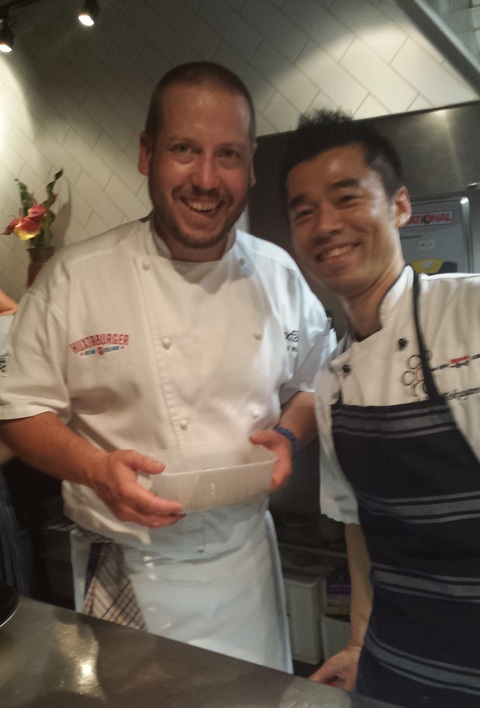 As a food writer and food lover I get to eat a lot, and often. There are some occasions, some dinners that I wouldn't miss for the world. The most recent was an evening filled with fun, deliciousness and some fine wine. It was a collaboration between two fine chefs; Makato Tokuyama, originally from Japan and now chef at Cocoro in Ponsonby, Auckland and Daniel Wilson, originally from New Zealand and now owner chef at Huxtable in Fitzroy, Melbourne. Daniel invited Makato into his kitchen during the Melbourne Food and Wine Festival to cook an omotenashi dinner.
Perched at the bar, I could see the chefs hard at work. Huxtable, in an area that has fast become trendy since Daniel opened his doors (he has Huxtaburger across the road, one of five sites for his excellent and ever growing custom burger bars) is cosy and small with about 30 seats. The kitchen and bar take up almost half the area and it was incredible to watch the precision and speed of the two chefs, a couple of assistants and skilled front of house staff as they plated and served seven complex, intricate and detailed courses.
First up, an Aussie tiger prawn wrapped in crisp filo, and then an intricate platter of sashimi that included scampi, octopus, trevally, oyster, paua and tuna – wow! so fresh! Next the course in a Japanese dinner that is pure comfort and one of my favourites – the savoury chawanmushi custard that was silken and smooth, with spanner crab and scallop. Following that some Ora King salmon with delicate vegetables and the surprising note of cinnamon.
Then a lovely dashi stock that was a play on spaghetti vongole, crammed with clam and diamond shell clams and the fabulous flavours of nori and shiso. The final savoury course was grilled antarctic toothfish with fabulous veggies and zesty yuzu foam. To end: soy sauce icecream and panna cotta with strawberry, chocolate, praline and some delightful lemon balm cress.
Each course was accompanied by a specially selected sake or wine (loved the Greywacke sauvignon blanc.) It was a seamless performance with such detail on each and every plate. I would love to have the evening all over again. At the very least I know I will dine at Huxtable if I return to Melbourne, and can eat Chef Makato's food in Ponsonby regularly.
Huxtable: 131 Smith St, Fitzroy VIC, ph 03 9419 5101 Cocoro; 56A Brown St, Ponsonby, ph 09 360 0927
Print • ∞ Permalink • Comments