16 December 2014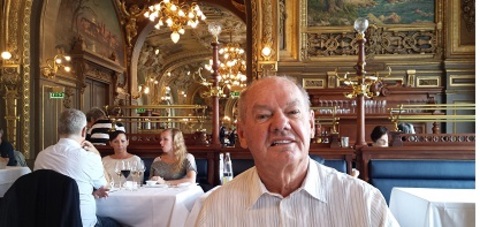 Two weeks of eating in Paris and Burgundy reaffirmed my love of French food. Despite what some critics and naysayers might have us believe, the glorious food of France continues to reign as one of the great cuisines of modern times.
There's a move away from traditional fare as French chefs embrace more vegetables and healthier options. We spied many vegetable based menus. Main course choices with a large lump of protein dominating the plate, accompanied by a rich heavy sauce, seem passé. Often the food almost danced across our plates in a riotous symphony of colour and textures.
There's no doubt that you don't have to spend a fortune to eat fresh exciting food. Look out for prix fixe menus offered at lunch time when you can dine at a fraction of the price of the á al carte dinner. What you must do is your homework, as we did, travelling with reservations already made, or addresses and contact numbers for recommended restaurants. Otherwise you're likely to join the throngs eating very mediocre food in tourist traps in city centres.
The standout experience we enjoyed in Paris was Sunday lunch at Le Train Bleu. This very authentic French brasserie has perched above the main entrance to the busy Gare de Lyon since 1901. It is a Belle Epoque gem, complete with lashings of gilt and velvet, and very recently authentically restored and renovated. A bar, waiting lounges and the large restaurant are reached via a grand staircase, sweeping up from the station's main platform. Forty one large tableaux, painted in oil, decorate the walls and ceiling - representing trains, railways and destinations.
It is also known for the parade of famous French personalities like Coco Chanel, Brigitte Bardot, Salvador Dali and Jean Cocteau who were regular diners last century. In 1971 Le Train Bleu was declared a historic monument so travellers will be able to capture the grandeur of a former era of travel forever.
The restaurant menu is filled with French classic dishes, as that is what everyone heads there for. At almost all the tables the choice seemed to be either the aromatic leg of roast lamb, carved on a silver trolley or genuine steak tartare mixed by nimble waiters. Both dishes were dealt to tableside. (I was reminded of the hilarious scene in a movie where actor Rowan Atkinson as Mr Bean dines at Le Train Bleu, orders that very same tartare and then fills his pockets with the raw mixture that he finds so distasteful.)
Prices were high but we chose to eat one of those aforementioned bargains; a prix fixe special menu of eggs Florentine, a fish main course, rum baba for dessert, and a half bottle of wine each. All delicious.
Print • ∞ Permalink • Comments