9 October 2015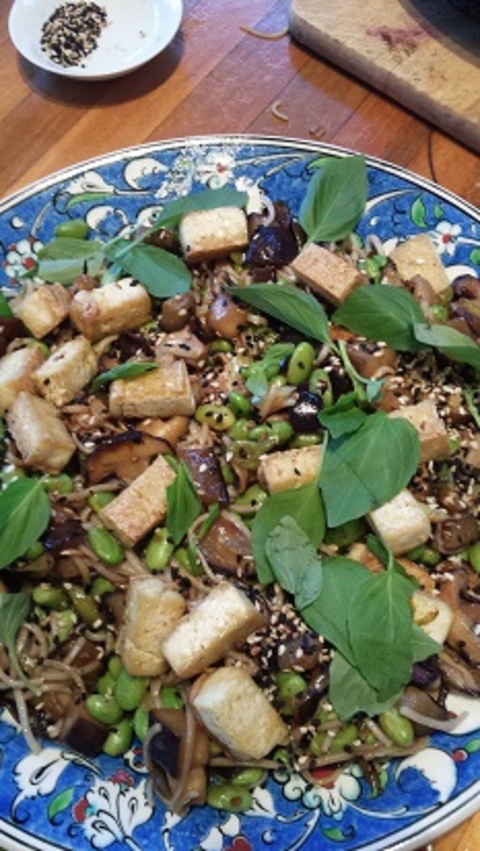 This week we changed our usual eating patterns as My Food Bag offered me a trial of their new Veggie Bag.
"Great," my husband said, "I can lose weight!" Well no, he didn't, as the meals were hardly the sort of food that one would get on a diet. They were substantial portions; they had plenty of vegetables, lots of protein and some bulky starch components that filled us up. Also they were hearty, so hearty that our neighbours got to enjoy a couple of tasty lunches with the leftovers.
The thing about vegetarian food is that as owner dietitian Nadia Lim said, there always has to be some form of protein and so each night we ate a meal that incorporated that – a fried egg, fried haloumi, fried chickpea patties, and tofu.
The meal with tofu was the most original and interesting. Japanese eggplant, shiitake and soba noodles with tofu, edamame beans, leeks, sesame seeds and lemon basil. My 92 year old mother came to dinner that night as it was our daughter's birthday. She declared she had never eaten such interesting food as everything on her plate was completely unfamiliar to her. The marinade made everything tasty. I would have given this meal 9/10 but the tofu was disappointing. It was firm and rather tasteless and so I pan fried it with soy and oil to try and inject flavour in it. If Nadia can find some silken tofu this would be a stellar dish. 8/10
Monday's meal was grilled spiced haloumi with kumara, walnut and bulgur salad. There was a lovely chunky herb vinaigrette, cherry tomatoes, roast red capsicum, spinach, fresh coriander and pumpkin seeds. All filled with flavour and easy to cook. This was my husband's favourite of the week. 8/10
My favourite meal was the potato, pea and cauliflower curry with a fried egg, brown basmati rice and mustard chilli oil. It was hearty with a tin of tomatoes and creamy coconut and we had so much we could have had the neighbours over. Instead they feasted on the remnants for lunch next day. 8/10
Finally a dinner of falafel with freekah tabbouleh, hummus and pita bread. The falafel balls were complemented by an enormous salad… freekah with grated carrots, grapes, cherry tomatoes, cucumber, mint, parsley pecans and juice of half a lemon, but it lacked a little spice or tasty dressing. We had a mini pita each and three large falafel patties. The meal was hugely improved when I decided to add a dollop of greek yogurt and sumac to everything. 7/10
Here's the thing about My Food Bag. You get to cook with stuff you wouldn't normally use, all the shopping and most of the measuring is done for you, and no meal takes more than 45-55 minutes to prepare. I have had the Gourmet Bag before and as long as it contained one or two vegetarian meals each week, that would be my preference. But if I were ordering every week and I can't as I have my own recipe development and testing to do of course, occasionally I would do the Veggie Bag as it is interesting and original. I have ordered two weeks of My Food Bag vouchers for my son and his wife as they have a new baby and it will be perfect for them as they love their cooking but will not have to shop or think!
Print • ∞ Permalink • Comments