8 August 2015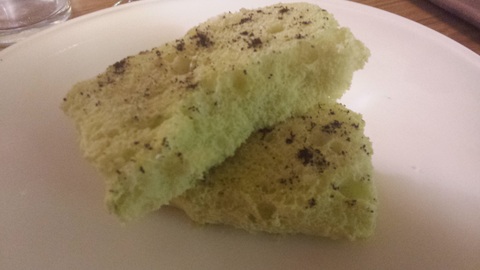 Sometimes a dining experience is like no other and does all the things that a well thought out meal should do; excite, challenge, satisfy, and perhaps change your thinking. Last night I was privileged to attend Field & Fallow by PASTURE, a dinner that Ed Verner & Laura Forest offered as a pop-up experience.
We drove in the dark and rain along the almost moving southern motorway and then along crazy country roads to Vin Alto Estate. Tough trip, but absolutely worth it.
Ed and Laura have spent a year away from Auckland, and during this time Ed cooked in various restaurants in Copenhagen. The pair refined their ideas and the values around food and came home to stay in the Clevedon Valley where they hope to pursue their dream of food that is simple, accessible and driven by ingredients that are fresh, local and vegetable-forward.
This meal was ten small courses of imaginative food, sourced from local producers and growers in the Clevedon district and that did not require fancy plating but rather an expression of techniques and ideas gathered overseas.
The first courses; two simple sweet cabbage leaves sandwiched with a buttery emulsion; exquisitely prepared and presented on a log with herbs, followed by a tiny onion cup filled with smoked kahawai and topped with delicate egg yolk crumbs. Perfect to go with a refreshing drink of white port and lime.
Then followed a succession of delicate courses that were just a few bites of exquisiteness; first, one of my favourites of the night some buffalo milk curd with lemon thyme and sweet bee pollen in parsley oil, and another refreshing drink - cucumber, celery and parsley juice.
Next a hearty moist loaf of buckwheat and smoked beer with kefir butter and lardo! (Beer with this, of course!)
Venison tartare with chervil and cauliflower, accompanied by 'toast' made with the unusual technique of breadcrumbs and butter so it looked like a lacy doily followed.
After that two vegetable courses; gorgeous baby courgettes with local oyster cream, and a sunchoke with an almond and soymilk skin. Another gorgeous drink with that – pear, fermented celery and grilled lemon.
The final savoury course was heavenly juicy pork scotch with fermented pear puree, rainbow chard washed in chamomile butter. And a lovely chardonnay that picked up on all the flavours.
The first dessert came on frozen plates; I have never seen quite the likes of Ed Verner's fennel, preserved lemon and coffee ice. It really looked like a loofah sponge but when I put it on my mouth it melted away leaving just the flavours. Extraordinary! (Pic above)
The second dessert was a play on apple and caramel tart… shaved macadamia, apple green apple slices (how did he do that?) and warm yeasted caramel, served with a glass of warmed cider with hints of Manuka and pine.
And then finally the lovely surprise of miniature fresh chocolatey brioche direct from the oven to send us out into the dark and stormy night.
A truly extraordinary dinner from a talented pair that I hope we are going to see a lot of in the near future. This had to be the most refreshing dinner I have ever eaten. Mmmmm.
Print • ∞ Permalink • Comments