16 February 2015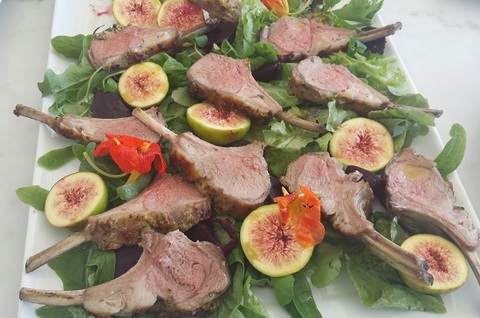 If you ever needed an excuse to fire up the barbecue and grill some tasty lamb, it was yesterday, National Lamb Day. The export that carved our name into offshore markets around the world was celebrated throughout New Zealand on Sunday 15th February, exactly 133 years since the first shipment of lamb set sail from Port Chalmers in Otago on the SS Dunedin, bound for London. Those 5000 frozen carcasses arrived 98 days later in excellent condition. Since that spectacularly successful venture, the meat export industry has grown and now contributes more than $8.5 billion to the New Zealand economy. We eat a lot of lamb here but it is interesting that 95%, now carefully cut into portions, vacuum packed and chilled, is destined for export.
To celebrate National Lamb Day, I cooked a platter of delicious lamb cutlets pictured above and shared them with Matty McLean of TVNZ on a segment that ran on the TVOne News last night.
Here is the recipe:
2 small racks of lamb
1 tbsp Dijon mustard mixed with 1 tbsp olive oil, 1 tbsp chopped thyme, salt and pepper
2 handfuls fresh salad leaves
8 small beetroot, cooked and halved
12 fresh figs, halved
Extra olive oil for drizzling and edible flowers for decoration.
Coat the lamb with the mustard mixture and roast at 230C for 15-20 minutes. Allow the lamb to rest for 15 minutes. Lay the salad leaves on a platter, and distribute the beetroot and figs evenly over the leaves. Carve the lamb into cutlets and place on top of the salad. Drizzle over really good olive oil (I use Lot 8 from Martinborough) and decorate with a few edible flowers like nasturtiums or some fresh mint leaves.
I imagine the agricultural pioneers, William Davidson and Thomas Brydone, who instigated those first lamb shipments will be slowly turning in their graves at such modern refreshing ideas!
Print • ∞ Permalink • Comments