15 May 2013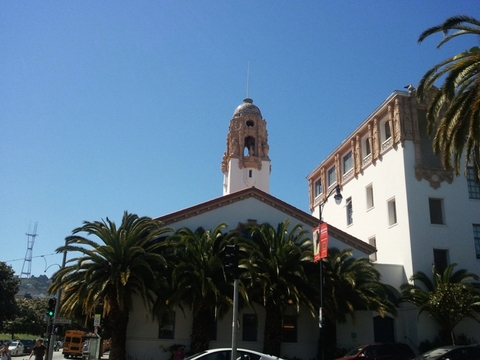 It was non-stop eating on my recent trip to San Francisco. The two things I loved most were: A choice of still or sparkling water in every restaurant - for free! They all had their own carbonating equipment with no need for those expensive bottles of imported water. And the other; the freshness of the cuisine as it seems to me the Bay area chefs are spending time sourcing fresh food from farmers, artisan and the farmers market at the Ferry Plaza (Tues and Sat mornings) and they have the confidence to let the ingredients speak for themselves! Here is a list of what I thought was really good: (I would have included Greens, the famous vegetarian restaurant on the Marina, but the wincey-poncey Maitre d' was so rude and arrogant, and the staff so hopelessly unhelpful that I fear the days of the place may be numbered, despite my stunning asparagus pizza!)
Copita Tequileria y Comida, Facebook.com/copitatequileria T +1 415 331 7400 Take the ferry to Sausalito for the spicy Mexican food and knockout tequila cocktails. Chef Joanne Weir presides over a menu that includes such do not miss dishes as 24 hour pork carnitas, papas bravas and sone stunning ceviches.

Park Tavern, www.parktavernsf.com 1652 Stockton St T +1 415-989-7300, at Washington Park is owned by New Zealander Anna Weinberg, with talented chef Jennifer Puccio in the kitchen. Noisy, always buzzy and serving smoked devilled eggs, lovely seasonal vegetables. great seafood and much more.

Boulevard, www.boulevardrestaurant.com T +1 415 543 6084. Winner of Americas best restaurateur, Nancy Oakes dishes up contemporary cuisine in a French brasserie setting. Oysters, calamari stuffed with lobster, lacquered king quail and great bread.,

The Hog Island Oyster Bar right in the Ferry Plaza, for a quick feed of fresh oysters from all over America, shucked to order of course and some lovely local wines.

Kokkari, www.kokkari.com T +1 415 981 0983 I walked into this place and felt right at home immediately. Really comfortable and some terrific Greek food - wood fired roasted pork, fresh Greek salad, potatoes with lemon and oregano, grilled octopus salad and saghanaki. Refreshing Greek wines.

Nopa, www.nopasf.com T +1 415 864 8643 Everyone in the city wants to go here. Dinner only, reservations taken one month out, for urban rustic food and lots of woodfired food like chicken, pork and flat bread and always seasonal ingredients, carefully sourced from local farmers and artisans.

State Bird Provisions www.statebirdsf.com T +1 415 795 1272 Modern Californian innovative combinations with the freshest of food, served dim sum style as starters with great modern mains to follow, including quail, the renowwned California State bird. Bookings taken 60 days out and there is a constant a line for walk-ins.

SPQR www.spqrsf.com T +1 415 771 7779 Tables are crammed into this busy modern Italian neighbourhood (Fillmore) restaurant. Pass on the main courses and get a selection of astonishing selection of fresh Italian inspired antipasti dishes, and the modern pasta dishes combined with fresh veggies and Italian cheeses.

Bar Tartine, www.bartartine.com T +1 415 487 1600 Owned by the same people as the popular Tartine bakery, this simple restaurant is open for lunch dinner and weekend brunches. Lovely fresh food like roasted kale with rye, seeds and yoghurt, and farmers cheese dumplings with red beet sauce and spinach serving a small menu of contemporary simple food.

MY China. www.mychinasf.com T +1 415 580 3001 Martin Yan, one of the true characters of the American food world presides over this contemporary buzzy restaurant in the Westfield shopping centre on Market St. A full menu of everything from china you ever dreamed of eating!

Camino, www.caminorestaurant.com T +1 510 547 5035. We were booked at Chez Panisse in Berkeley but they had a devastating fire, so we headed across the Bay to Oakland to Camino. Everything is cooked over the fire and we loved our kebabs, fresh salads and woodfired vegies. Very deceptively simple and yet quite complex as there must have been a lot of food gathering, foraging and sourcing going on!
Print • ∞ Permalink • Comments