13 September 2014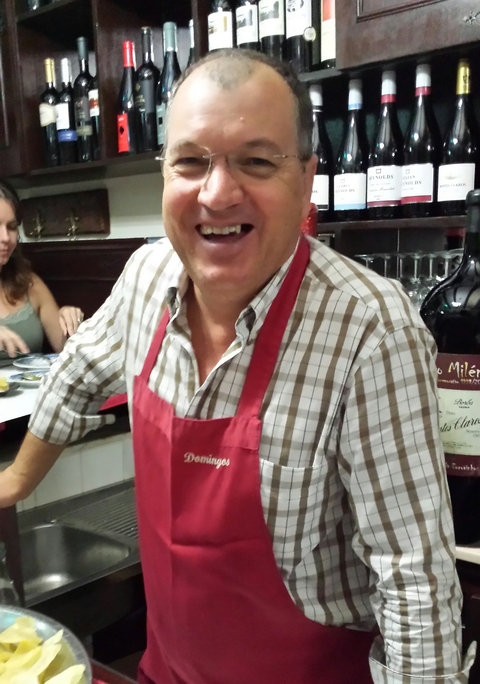 Last night, a dinner that added to the rich cauldron of eating experiences my life has dished up. A tiny jewel of a restaurant in a narrow cobbled lane in the historic Portuguese town of Evora is where Domingo Canelas and his wife Florbela cook for just ten diners at lunch or dinner, five days a week. No reservations so we arrived at 6.45pm to claim our place in a small queue.
Seated at the counter, with a wall of wine to gaze at, the evening was personal, exciting and friendly. Very like a true experience in a backstreet secret sushi place in Tokyo. The chef does not speak English but a real rapport is established immediately. He suggested what was good and that sounded perfectly good to me
We ate thin slices of dark rosy pate negra ham, roasted mushrooms filled with local olive oil and crunchy salt, then shared a stunning whole grilled sea bass with a simple salad of tomatoes, cucumber and finely sliced white onion. A glass of white wine for me, red for him. To finish, a Portuguese custard tart for me and fresh sliced mango for Murray. Perfectly simple but breathtakingly delicious.
But for me this experience reinforced just what a new book I have contributed to is all about. 1001 Restaurants to Experience Before You Die is due out at the start of October. The restaurants are chosen for their authenticity, their food (of course) but above all for the special experience they deliver. Botequin da Mouraria is one of those places. A genial host, simple fine fare and an unforgettable atmosphere.
There are 13 New Zealand restaurants in this book which reaches around the world. You may never get to Evora but we do offer heart stopping dinners at home in NZ too! I will surprise and delight you hopefully with my choices - just as I was surprised and delighted last night.
Print • ∞ Permalink • Comments