27 September 2015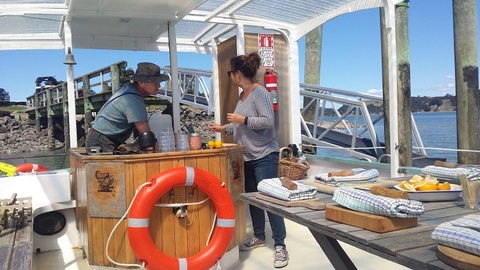 A perfect Spring day, a turning tide, a few foodie friends, local wines, and oysters fresh from the farm, gathered in front of your eyes. All aboard the Mahurangi Oyster Shuckleferry at the Scotts Landing wharf on the Mahurangi Harbour.
Lisa and Nod Hay are well known for quality Pacific oysters from the Mahurangi. You may have eaten then for sure at Depot, you may have downed a dozen or so at popups at the Street Food Collective in Ponsonby or at Welly on a Plate, or spied them live in the tank at Fishbone in Queenstown. The Hays never let their oysters get too big, and always deliver them in the shell to their restaurant and private customers. so they are sweet and briny and always taste like the sparkling ocean they are grown in.
Now they offer an experience of an oyster farm tour on their barge, "The Oyster Shuckleferry." They have lovingly restored and furnished this confortable vessel so groups can visit their farm and shuck fresh oysters to their hearts' content. Visitors will learn more about oysters than they've ever known and have a fabulously relaxing and tasty two hours sipping, shucking and devouring.
This is simply food tourism at its absolute best - experiencing fresh food in the stunning environment it is raised. One of the best days out I have enjoyed in a long time. Fabulous hosts, and any oyster lover's dream come true.
To book for groups of 8 to 16 people contact Lisa and Nod Hay,
Oyster Shuckleferry ph 09 425 5652 www.mahurangioysters.co.nz
Print • ∞ Permalink • Comments