22 April 2015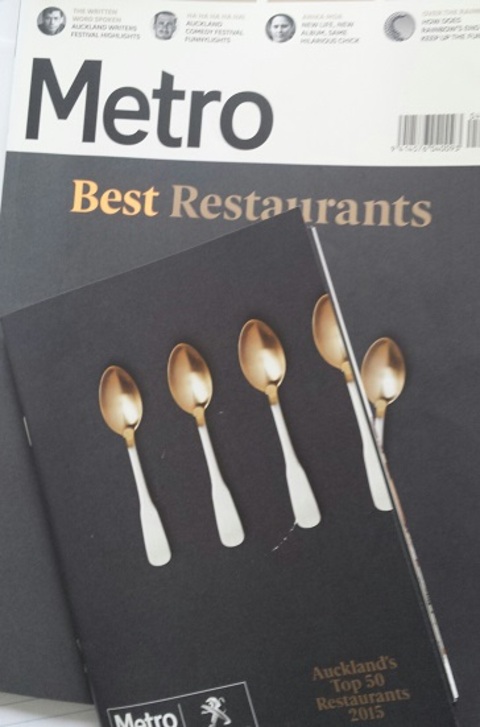 I attended the Metro Restaurant of the Year awards this week and was pretty impressed with the line-up of winners. If you seek a fine meal in the city head out and buy the latest mag as all the good places are listed there, including a snazzy little booklet that is a real keeper.
Depot rightly deserves the accolade of supreme winner but I bet it was a hard choice between that very casual noisy place with fabulous food and runner-up, the utterly elegant French Café, also with fabulous food. My other thrill was that Metro recognised something I have known for a long time; Cocoro, the authentic Japanese restaurant in Brown St, Ponsonby is one of the hidden gems of our city. It deservedly has Metro's top rating, five stars, along with being awarded Best Smart Dining Restaurant and Best Drinks Service. Their amazing chef, Makoto Tokuyama, is one of my culinary heroes for his inventiveness and attention to seeking out the absolute freshest, organic and ethically grown and raised products.
Other standout accolades were Mark Wallbank and Che Barrington for Restaurateurs of the Year. They really did put themselves on the line by opening Woodpecker Hill, taking three timely risks; southern barbecue, whisky and bourbon dominating the bar, and daring to open in Parnell (more about that later.) In that category Sid Sahrawat must have come close as he has been a constant fine dining star at his little Ponsonby gem, Sidart, but has made a bold and clever move to open his casual and excellent Cassia in the inner city. As my daughter, Miss Moet, said, "Cassia presents all the flavours of India, but you can never find food that good in India!"
There were many more well-deserved accolades of course, and that line-up and selection has me thinking. About 20 years ago I declared the North Shore a "culinary wasteland." At least in 2015 Metro has found two restaurants on the shore worth including in their top fifty. But the concentration of the other top places is confined to the inner business district and waterfront and the inner west of the city, apart from two places in Parnell, two in Mt Eden, one in Bombay and an astonishing six on Waiheke.
So now that singular culinary wasteland has become the culinary wastelands (plural) of the bays and eastern suburbs including Newmarket and Remuera, the far west, the complete area of South Auckland, and the far flung eastern reaches of the city beyond the Tamaki River, and still most of the the North Shore. Do those people eat out? I bet they do. If only Mark Wallbank, Sid Sahrawat and others like them were willing to take even more risk. What will 2016 bring?
Print • ∞ Permalink • Comments