23 April 2016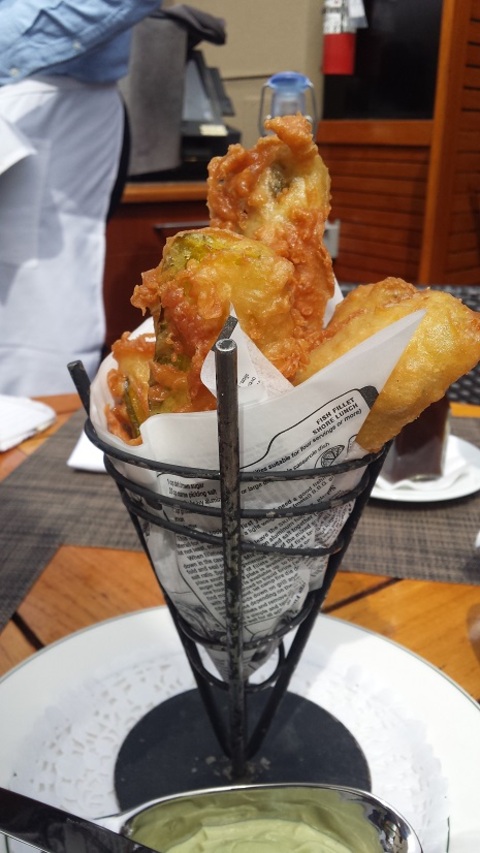 Surrounded by the snowy caps of mountains, sparkling blue water in every direction and Spring's tulips bursting forth in a colourful display all over the city, there is no place more beautiful on America's West coast than the Canadian city of Vancouver.
There for a mere 36 hours and with the help of that city's food guru Nathan Fong, we managed to sample the fare in four terrific restaurants. So for anyone contemplating a visit to this beautiful serene city here's a list of top notch places not to miss.
Boulevard: Sitting almost in the foyer of the leading hotel in the Vancouver, Sutton Place, Boulevard is one of those terrific places that manages to make everyone feel comfortable. From the well-heeled clientele that choose to stay in house, to ladies and who lunch and the business set it's all here. A clubby atmosphere at back, modern bustle and décor up front, and a classy raw bar – take your pick. The food is oh so fresh and modern and we snacked on the most innovative seafood tower ever with seafood fashioned into several tasty melanges accompanied by prawns, oysters, crab claws and more. Hamachi, served sashimi style with fresh spring garnishes was the highlight.
Coast: Not far away from Boulevard, in the centre of the glitzy downtown shopping precinct, Coast is the seafood flagship of the successful Glowbal restaurant group. Multi-layered, with a stunning circular cocktail and bar that dominates the restaurant, this is a lively scene that attracts an upbeat crowd. Try for a seat on the balcony overlooking the restaurant and enjoy feasting on an array of fresh innovative fish and shellfish dishes. We tried some soy paper wraps and a moist sweet crab cake. If you're a steak lover head next door to the group's Black and Blue that has a floor to ceiling spectacular display of meat quietly and seriously ageing in a temperature and air controlled cabinet.
Cin Cin: Lauded as Vancouver's best Italian ristorante, this is a very popular and comfortable roomy place to enjoy traditional Italian fare with a twist. Everything is cooked with care and the focal point is the wood-fired grilled food that is filled with flavour delivering a genuine smoky punch. The pasta and rice primi courses are pretty damned good too and you'll find some of the best service around. I loved my Tuscan style duck pappardelle as it was filled with robust flavours.
Joe Forte's: Sunday brunch does not get much better. Inside the two tiered restaurant there are tables tucked into corners everywhere and a pianist tinkles away on the ivories to make everyone feel in the mood for relaxation. Upstairs there's an outdoor patio with a beautiful garden and planted feature wall. The eclectic menu offers everything from oysters, freshly shucked or fried, to some lovely renditions of fish and chips, lobster rolls, salads and the ubiquitous but delicious Eggs Benny. We loved the fried pickles featured above!
And two things not to miss while in Vancouver; the Granville Island Market and the Butchart Gardens, a day long excursion to Vancouver Island, but utterly worth it as we got to see half a million tulips bursting into bloom. Gorgeous.
Print • ∞ Permalink • Comments