1 August 2015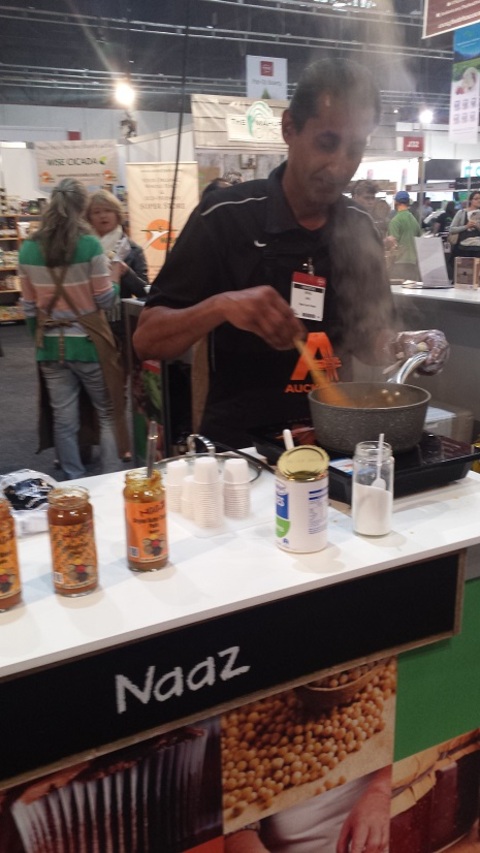 The Food Show always throws up new food favourites and it's where trend spotters can see innovative ideas that are fast becoming main stream. So what did I make of the Auckland Food Show 2015?
This is the year of the coconut; coconut oil, coconut water, coconut ice cream, coconut milk, coconut ice blocks, dried coconut and myriad other stuff. Loved the drinking milk from Little Island Coconut Creamery – it is light and delicious and not the slightest bit sweet.
A close second in the trending stakes is the paleo/gluten free/health-laden diet that often encompasses raw and vegan foods. So many good products that fall into these categories were on show and attracting heaps of attention.
My favourite area of the show was the showcase master-minded by ATEED. Auckland Tourism, Events and Economic Development are doing a fantastic job of helping small start-up and artisan producers who have some very, very good products. They provided a large area which proved very popular and where I spied Naaz, my new favourite curry paste that I have bought at the Hobsonville Farmers Market. I also was delighted to see King of Kiwi super food drinks made from kiwifruit juice, Bonnie Goods' fabulously oaty oatcakes, Poppy & Olive nut butters – love the almond best, and Dr Feelgood with his amazing ice-blocks. I also loved the way ATEED put the spotlight on the periphery regions of the city – I politely refrained from entering a competition for a weekend in Matakana (I have a home there) and loved seeing the Franklin producers as without them we'd go hungry in Auckland.
Nearby, having graduated from the ATEED nest, I spied Mahurangi Oysters and managed to wolf down a few of the saltiest, sweetest plump creamy specimens from Andrew and Lisa Hay's farm. I brought home their oyster soup and ate the lot for lunch today – creamy and very oystery. I love those shellfish! Also emerging from ATEED's wing were Culley's fiery sauces and Genevieve's unctuous pates – eat the whole jar with a spoon – I dare you!
Other things that caught my eye this year; • Glenbrook handmade cheese • Cloudy Bay Clams • Japanese Wagyu Beef • Maille French Mustards • The Street Food Collective with Judge Bao's superb pork buns • Laucke specialty flours from South Australia which promise to be a premium flour with more strength than the flour we grow here in NZ. I cannot wait to get baking some bread with their 00 flour.
Finally, how good was that little eat street of deliciousness with all sorts of purveyors cooking up treats so show goers could relax over a plate of superb food. Thanks Food Show for a great outing!
Print • ∞ Permalink • Comments