28 June 2012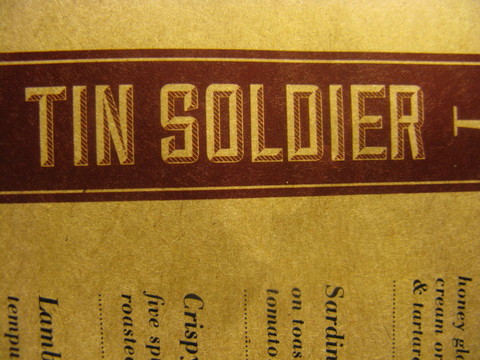 There's a new breed of chef, a new breed of restaurant. It's youthful, purposeful and with a focus that's different from the old establishment-type places. And I love it!
We ate at Tin Soldier tonight and everything about the place is right - delicious food that's presented mostly as small plates, kitchen-as-theatre with lots of youthful energy captured by the players attired in smart t-shirts and striped aprons, bright and welcoming casual atmosphere, terrific list of beers and wines by the glass, and best of all you don't need small mortgage to eat there.
Stephen Smith heads the kitchen and he almost knocked me out with his Tin Soldier's Fish Pie - scooped out crisp potato shells filled with very smoky fish with chives and lemon, and topped with a silky potato puree. And so original I wish I'd thought of it. We also loved our other starter plate, the smoked beetroot (lot of smokin' goin' on here!) which turned out to be three varieties of beet with jazz appple, Gruff junction goat's curd and sweet onion. It was fresh, sweet and very interesting.
My master-stock poached poussin was sticky and spicy, as it was served with a fascinating concoction of peanut, chilli and ginger toffee-like popcorn, some fresh shoots with fine julienne strips of green beans and red peppers. Finger licking good, indeed, especially as there was someting resembling fluffy coconut whipped cream in there too. Husband's fish (he always chooses fish) was fresh snapper served on cauliflower cream with caperberries and Serrano ham. "I love surf and turf," he said. Well, yes.
All that, plus a glass of Champagne, a 500ml bottle of Boundary Road Ein Stein Munich style beer, two glasses of wine (Atarangi Celebre & Man O' War chardonnay,) some warm crusty bread and olive oil, and we were out of there for $145. We'll be back, for sure.
Tin Soldier 151 Ponsonby Rd, T 09 378 1719
Print • ∞ Permalink • Comments