27 May 2012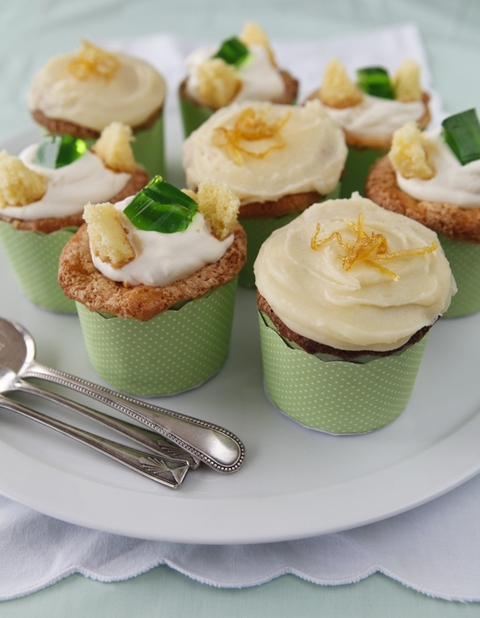 This recipe is called 'pavlova' sponge as it uses the yolks only, that are left over from making meringues or pavlova. You can make cupcakes like these or a 20cm sponge.
4 egg yolks
120g caster sugar
75g flour
½ tsp baking powder
Pinch of salt
½ tsp pure vanilla essence
50g butter, melted
4 tbsps boiling water
1 lemon, grated rind only
Preheat the oven to 170°C. Beat the egg yolks with the sugar until very thick and light. Sift the flour, baking powder and salt together and fold this into the egg and sugar mixture with the vanilla essence. Melt the butter and fold this through with the boiling water and grated lemon rind. Spoon the mixture into paper baking cups. Bake for 15 minutes until risen and golden. Cool and decorate with cream or icing as follows. Makes 7-8 large cupcakes or 16 small cupcakes. Can also be made in a 20cm cake tin. Store for up to three days in an airtight tin.
Decoration for cupcakes:
150mls cream, whipped
1 packet jelly crystals, dissolved in water and set
75g butter
½ cup icing sugar
1 lemon, juice and zest cut into strips
To make into butterfly cakes, cut a small circle about 3cm deep from the middle of each cake. Cut this little piece into two pieces to form the 'butterfly' wings. Whip the cream and spoon a little into the centre of the well in each cake. Decorate with berries or little cubes of jelly and finish the cake by placing the wings onto the cream. To make the lemon icing, melt the butter and beat in approx 6 tbsps icing sugar with 2 tsps lemon juice and continue beating until smooth. Spread this onto the top of each cake and decorate with lemon zest strips.
Recipe by Lauraine Jacobs, Photo by Elizabeth Clarkson
Print • ∞ Permalink • Comments