14 November 2016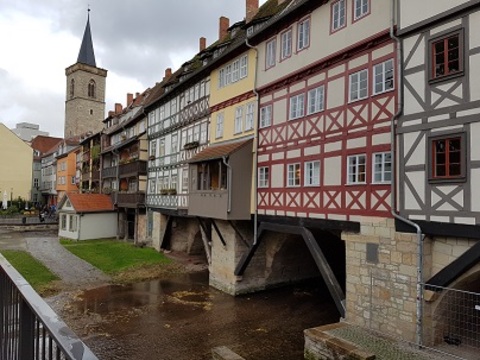 Erfurt. This student city of 200,000 people is a little more than two hours by ICE train direct from Frankfurt airport, and attracts more than 3 million visitors each year. Right now it will be heating up as it holds one of Germany's most famous Christmas Markets, in a vast plaza in front of the city's magnificent cathedral. In the summer months an outdoor opera is staged on the same precinct, so it is these two events that most of the visitors head for.
I was there to cover the IKA, the Culinary Olympics, as the city also boasts the Messe, a vast modern exhibition hall where that extraordinary event was held. Because Erfurt is strategically placed in the centre of Germany and almost equidistant from Frankfurt, Berlin and Munich the conference centre is busy year round.
But what about the rest of the city? There are many lovely old buildings and churches in the centre, an excellent bus and tram network to get visitors and locals everywhere for less than two euros and some excellent shopping including a modern mall that is cleverly disguised behind a quaint old façade. My favourite place was the Kramer Brucke, a 1000 year old bridge that has houses built above classy little handcraft and specialist shops. Pic above.
As for food destinations, Goldhelm Chocolates is the not to be missed place – a little shop on the bridge alongside their own ice cream store, but also a superb store and chocolate cooking school in the square behind the bridge where the philosophy is bean-to-bar. Near there is a hand craft baker, Backstube where the owner allows visitors to bring their own condiments to go on his amazing bread. And in another nearby square look for mustard maker Born which has been in operation since 1820.
Everywhere in almost every restaurant the regional specialty Thuringer dumplings and bratwurst are served. You won't get away without eating this hearty meal, but luckily the city is also known for broad beans and watercress. I visited Ralf and Karolyna Frisch who cultivate watercress on a family site that dates back to 1630. Impressive and vital as it is an antidote to the rich fare served in the city.
Print • ∞ Permalink • Comments