19 October 2016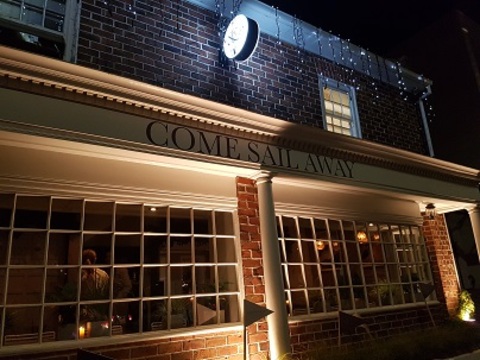 So you think and truly believe you have to go to Ponsonby or at least west of Mt Eden Rd to find great food and wine? You must be a Metro reader! Hey! Exciting new finds in the Eastern suburbs have the locals all excited and hungry.
• PASTURE, 235 Parnell Rd, Parnell, ph 09 300 5077
Ed and Laura Verner's restaurant screams simplicity and sophistication. From Wed to Sun they offer a six course set menu for $130 that challenges, delights and satisfies. They cook over fire, they are seriously into fermentation, their drinks are hip, and their bread is a thing of wonder. And like the deceptively simple yet sophisticated food, the dining room is modern with an almost Nordic influence. Tip: just go with one other and sit at the bar. Bookings essential.
• TRUE BISTRO at TRUE FOOD & YOGA, 19 Tamaki Drive, Okahu Bay, ph 09 528 8781
Nic Watt of Masu fame and his wife Kelli have opened the most remarkable destination the Eastern Bays has seen for years. On the former site of Hammerheads, the spacious yoga studio takes up most of the building, but the entrance and stunning outdoor deck is given over to a lovely bistro that produces food that ticks every box the healthy and hungry could wish for. Watt's menu is light and delicious, served from Breakfast through to dinner and is a far cry from the bird seedy food that dominate other health-oriented eateries. Fresh smoked fish, lovely vegetables, tasty combinatiosn of meat and more. And yes, vegans, gluten free diets and more are catered for but you'd be surprised how interesting all this food is. Tip: Book a table on the deck and watch the sun set over the westerly harbour
• PINEAPPLE, 207 Parnell Rd
From the owners of Meadow in Meadowbank and 46 & York, this new bar in Parnell brings unprecedented sophistication to the Auckland bar scene. Luxuriously furnished with leather and dark timber, and featuring the sort of bar that's reminiscent of posh New York, it's the new place to relax over a late night drink or a bottle of wine. You may have to wait in line but it's worth it. Tip: don't even bother showing up without a collar on your shirt. Dress code keeps it smart.
• CLOUDY BAY COME SAIL AWAY, PARNELL POP UP, 46 Parnell Rd, 09 377 9675
Cloudy Bay wines have taken over 46 & York until mid November with a stunning pop-up restaurant. The place has been specially redecorated, a timber deck installed, copious greenery everywhere and those gorgeous Cloudy Bay wines featuring on the list. Better still, the fashionable chef Sam Mannering has designed a tasting menu to match the wines. Crayfish, Mahurangi oysters, pork belly and the very first of the season's Coastal Spring Lamb tiny cutlets. All deliciously moreish. Tip: Go for dinner and order the tasting menu with matched wines. Bookings essential.
Print • ∞ Permalink • Comments