2 August 2016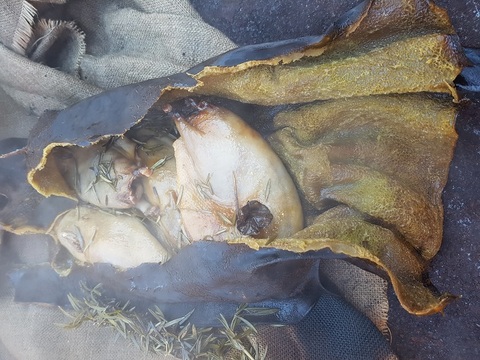 This had to be one of the most stimulating and challenging three days of ideas ever held in the food world. Students and teachers involved in Otago Polytechnic's 2016 International Food Design Conference set out to create a unique conference filled with new directions, innovative concepts and cutting edge presentations.
Certainly the 150 participants left with a whole new take on the importance of seeing food as far more than mere fuel for the body. Food was presented as the platform for business, art, new design and many of us had our thinking challenged by a raft of exciting perceptions and views.
The keynote speakers led the way each day: Marije Vozelgang of the Netherlands runs a food design studio in Amsterdam and set the scene with a dazzling visual video display of edgy and provocative installations and feasts she'd created. Her words of wisdom: "If you break bread with each other, you can't break each other's necks." (Emmanuel Khan) Direct from Nigeria, although raised and educated in the USA, Chef Michael Elégèbedé shared his vision for the new project he is creating in his return to his birth country. He is planning a modern restaurant where traditional Nigerian foods and ingredients, sourced from small farmers will be shaped into a new form of high-end cuisine. His words of wisdom; "In Nigeria they cook stew just to eat. It should mean more than that." On the third day, one of celebrating New Zealand food culture, the affable Al Brown discussed our cuisine and what it actually is. He reacquainted us with the joy of baking and preserving that is the backbone of cooking in home kitchens and reminded all to embrace the imperfections of food, to understand flavour and texture, and to enjoy the casual carefree environment that is New Zealand. His words of wisdom we should all take pride in: "The flavour of our food in New Zealand has the volume turned up."
Along the way the presentations, workshops, shared meals and pop up dinners around the city were inspiring and breathtakingly delicious. Food waste and repurposing food was high on the agenda. Many of the presentations were held at Manaaki, the lecture theatre and cookery skills building. Truffles, ice cream, modern Māori food, southern seafood, coffee, raw food design, cocktails, bitter foods and even eccentric subjects such as matchstick design were discussed and debated. Some extraordinary pop-up dinners gave attendees the chance to relax and share food ideas.
The conference food was mind-blowingly great. Students had worked hard on concepts and the delivery of morning teas, lunches, afternoon teas and a spectacular Gala Dinner. The first day was all about repurposing food waste and some very real innovative recipes were delivered in the meals. The best: a fantastic spicy vegetable tajine. The second day had been themed and prepared by the Asian students, and morning tea's delicate pastries and flavours were followed by delicious stuffed pork buns and exquisite fresh spring rolls for lunch.
But it was on the third day that I realised just how much of the real New Zealand food scene I had missed in my thirty years of a food writing career. Manaaki is at the heart of our unique way of eating and entertaining. I had never heard this term before, or if I had, no-one had explained it. Simply Manaaki means to show respect for, and this is inherently part of all Māori feasting. I was entranced by the Hangi workshop where we discussed Manaaki and then pulled wonderful titi (muttonbird) wrapped in thick fresh sea kelp from the steaming pit. And by the workshop presented by Hiakai, a modern Māori food project, and the final day's brown bag lunch of pork and kumara sandwiches and little sweet doughnuts, inspired by a student's memories of his marae lunches. A little card in the bag told the story, "As I play with my cousins I can hear my aunties laughing in the Wharekai as the smell of boil up fills the air. Taea Kai – Let's Eat." As I winged my way home north I felt determined about embracing the Manaaki in my life and spreading and sharing all those delicious words I had heard and learned.
Print • ∞ Permalink • Comments