3 May 2012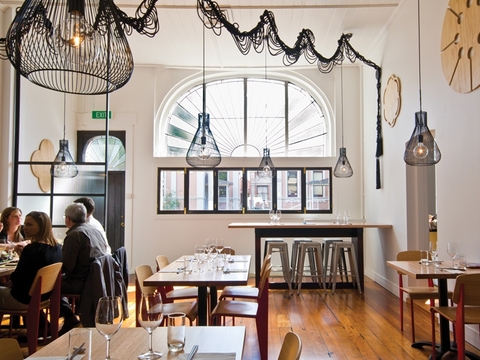 It's not often I post an interior shot rather than the foood of a restaurant but the new decor at Soto is so cool I cannot resist.
After nine years the more traditional Japanese style has been swept out and Designworks have given this very good modern Japanese restaurant a stunning backdrop to match the Izakaya food. For too long our city's ethnic restaurants have been second cousins to the more sophisticated decor in top tier places, but ta-daa! The old tired garden/conservatory has gone and there's light, style and a wonderful array of clever design features.
And in an age where we all want shared, casual plates of delicious things the style of eating here really hits the spot. Light, delicate, full of wonderful umami flavours, this is Japanese casual eating at its best.
Don't miss the oysters with ponzu, the grilled fish with pickled ginger, a smart fashionable beetroot carpaccio, pork cheeks in an open wrap (almost Mexican style), and juicy duck breast on cold soba noodles. But for me the standout is the prawns in tempura with chili mayo. I want to know where to get such fabulous prawns, and how to make that tempura batter that's so light it is merely a quick, crisp sensation on the tongue. Next time I will order a double of that dish!
Soto, 13 St Mary's Rd, Ponsonby T 09 360 0021
Print • ∞ Permalink • Comments