17 February 2012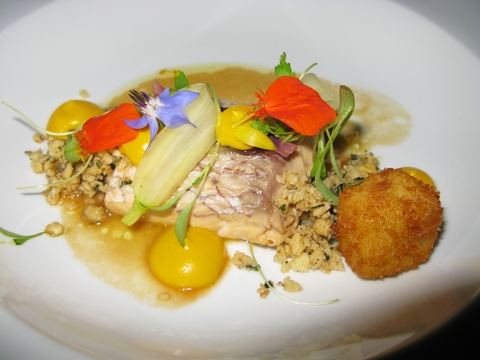 Sensational. That's the only way to describe sublime food that excites the senses and satisfies the palate.
Last night we opted for a five course degustation (well, it turned into an eight course dinner) accompanied by house made bread with white truffle butter, at Cru restaurant. Sale St, a large rowdy bar on the city fringe, hides this elegant restaurant behind a curtained space out the back, and the restaurant is approached down a tiny passage behind the bar. Nick Honeyman is Cru's chef and he's on fire. He's probably the only chef currently cooking here that's learnt some of his stuff from Pascal Barbot at L'Astrance, the tiny but perfect three Michelin starred restaurant across the river from the Eiffel Tour.
Presently Nick and his team are turning out around three new dishes a week; each one a tiny and intriguing combination of tastes and textures. Sometimes there's only a bite or two on the plate. Want more? There's something else original and delicious on its way. There was foam, savoury meringue, smoke (no mirrors), sous vide meat and fish, shavings of this and that, purees, gels and more. Standouts? Suffice to say it was all standout.
Pictured above, our fourth course, sous vide snapper, as fresh as fresh, on a carrot and cumin puree with shaved baby crimson and white carrot, a cheesy beignet that was as light as a feather, crunchy hazelnuts and herbs and flowers. That delight had followed yellowfin tuna with yuzu gel, venison carpaccio wrapped around meltingly tender aubergine on a charcoal puree, and some hapuku belly with a lemon puree and tiny cubes of pork crackling to provide snap, crackle and pop.
The quail confit leg, our fifth course, was accompanied by rare quail breast wrapped in nori and garnished with smoked eel, dried Iberico ham and port jelly and it arrived in a cylindrical bell of smoke. Knock out!
And then the duck to conclude the savoury courses, followed by an aperitif dessert that was memorable for its wonderful presentation with warm Italian meringue covering artichoke ice-cream and ice-cold strawberries and raspberries. Finally the play on a Penang pudding with a shower of freeze dried lychees.
Great food, fine wine choices to match delivered at a fine pace that didn't ever drop for a second. Go and eat Nick Honeyman's food soon.
Cru, Sale St, ph 09 307 8148 Tues - Sat
Print • ∞ Permalink • Comments