22 January 2012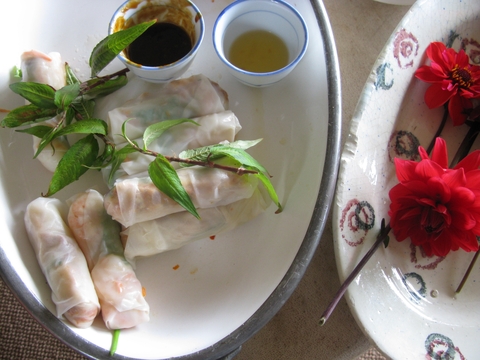 Welcome to the year of the Dragon! This year I was far away from a sophisticated City Chinese Restaurant for New Year celebrations. We had a wonderful local lunch at the appropriately and beautifully decorated home of J Barry Ferguson, one of those occasions where a well planned feast with several people contributing makes for a very special day.
Above are my friend Sandra's rice paper rolls, a refreshing and apt start (but not before our host had initiated the fun with some loud firecrackers) to our big feast. We then moved to a delicious buffet selection of Chinese inspired dishes.
I contributed my now famous Oriental marinated beef (in my Listener column this week and in the Recipe section of this website) accompanied by a salad of celery, snowpeas and tiny green beans, scattered with the wonderfully fresh Vietnamese herbs I'd bought from Phuong Graham at the Matakana Farmers Market. I also made Fuschia Dunlop's braised eggplant and tofu in a sticky dark sauce. Yum. Soy roasted chickens, tasty fried rice with prawns, ham and mushrooms and some soft doughy steamed buns rounded off the feast.
To finish, a spectacular cake with mango puree, chocolate, loads of rum and coconut cream. Delicious, delicious, delicious but no wonder that green tea slipped down so easily. "Chuc Mung Nam Moi!!!" as Phuong had said to me.
Print • ∞ Permalink • Comments