6 May 2011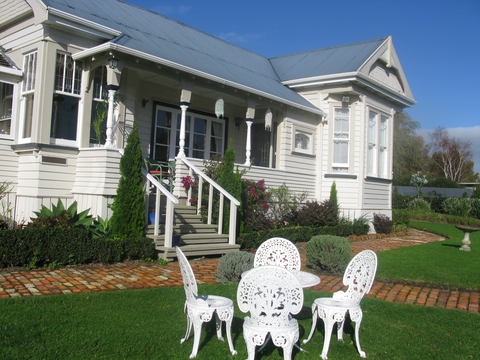 I have just spent three days touring in the Coromandel and judging a Café Crawl – part of the region's Homegrown Festival on this month.
First town was Thames. We checked into Cotswold Cottage, (pic above) a charming B&B just on the edge of town with a sunny outlook over the Kauaeranga River. Highly recommended as the hosts Jacqui and Graham are experienced operators, who have revamped a lovely villa to provide very comfortable accommodation. Fine breakfasts served and dinner on request.
A café crawl involves three local restaurants or cafés getting together, organising a three course progressive dinner, and on this occasion reflecting not just the food locally grown, but also injecting a bit of pioneer spirit as that was the suggested theme.
A cocktail was served in the magnificent historic Pump Museum, then it was on to our starter at GBD in an old pub (there used to be over 100 pubs in Thames we learned from our tour leader who was well versed in the local history.) Matatoki Blue cheese dipped in Tairua honey and crusted with roasted chestnuts on a feijoa and guava jelly reflected both the food grown around and the season.
Mains at the cosy Rocco Restaurant were a choice of local seafood hotpot filed with Coromandel mussels, paua, and scallops in a broth or pickled local pork with native greens and appled cabbage. To finish Bullion, in the main street, served us an Apple Showcase with the cutest little toffee apple and a manuka honey mousse.
Good food and hospitality are part of the Thames experience and it's worth taking time to stop there to seek it out and to spend time seeing a fascinating part of NZ's early pioneer history..
Print • ∞ Permalink • Comments