22 October 2016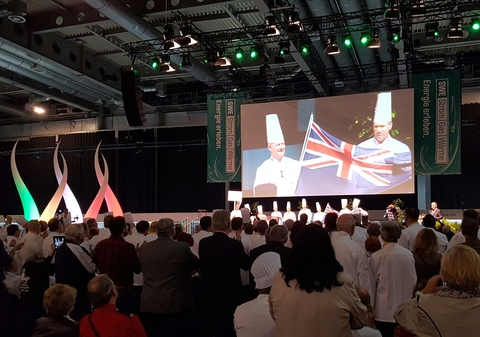 The New Zealand Anchor Food Professionals Culinary Olympics Team marched into the Messe Stadium in Erfurt Germany to the boom of Davanius' magnificent Poi E song, under a waving NZ flag and brandishing their Kiwi mascot. Clad in smart chef jackets edged with a Maori pattern and wearing pounamu pendants proudly they made my heart swell with pride.
I have never seen so many chefs in my life. 59 countries represented and tomorrow they will commence the battle of the stoves. But tonight it was all about celebration.
Austria marched to We Will Rock You. Denmark and Poland brought so many chefs I imagine most restaurants back home will be closed. Italy marched in to Andreas Bocelli's Time to Say Goodbye ( hope that's an anthem not an omen.) The Mexicans added sombreros, hairy false moustaches and played La Bamba.
South Korea danced in Gangnam Style as you might expect. The Scottish had a bagpipe recording of course and the sustainably minded Swedish Team want tp literally wanted "To Save The World Tonight" - their chosen theme song.
Such fun and now let the Culinary Olympics commence.
Print • ∞ Permalink • Comments