19 October 2016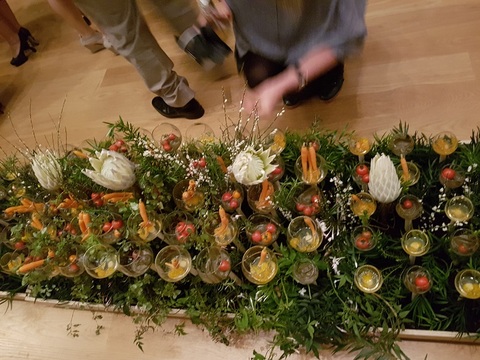 Every year this event gets better. The concept: collaboration between chef and artist, produces clever food, thought provoking art over a five course meal, with cocktails and canapes. Held in the Auckland Art Gallery this has to be the primo event on Auckland's culinary calendar.
This year, ably organised by Gather & Hunt's Courteney Peters and Rebecca Smidt of Cazador fame, the food was delicious, the accompanying wines well matched and the art, performance and static very interesting. Art curated by Pippa Milne.
To begin, Ainsley Rose Thompson came from Queenstown's Sherwood to work with a jellyologist to create a veritable forest floor of treats, all representing the goodness that grows in the earth matched to a creative cocktail by Laura Lopez. (see pic above)
The dinner set in the airy space above the gallery entrance was spectacular. First, the arrival welcome with Sarah Smuts-Kennedy's quartz singing bowls to create the right karma, matched to Kyle Street's salt, burrata and honey with sunbathed water(!) Then a short film show by Ngahuia Harrison with waves gently washing over rocks in homage to Hayden McMillan's Kono mussels, kingfish and compressed watermelon. The watermelon looked like tuna sashimi, but of course who would dream of serving or eating Bluefin tuna these days?
The connection between Steve Carr's playful watermelon production and João Martin's watermelon course was obvious. A thin round watermelon coloured wafer was lifted to reveal the vivid colour of that fruit's interior – with a difference. Lamb, beets and peas. The lamb heart was raw, the beets cut into tiny dice and the peas in a puree. Everyone ate it all! And the Brick Bay pinot gris was my wine of the night.
Then a fabulous performance. Dancers from Red Leap Theatre leapt about with symbolic birds held high above the crowd, accompanied by playful guitar and song. And Dariush Lolaiy's main course covered the table with platters of venison skewers, flatbreads, hummus, greens, radish, barberries and spices. Too bad I splashed my lovely Seresin Pinot across everything.
And to finish the gorgeous Sonia Haumonte of Vaniye in Parnell give us two lovely sweets – a citrus bergamot lollipop on licorice root and a rich caramel and chocolate cake.
50 volunteers, 6 top chefs, 120 diners and three clever women. Do not miss the 2017 event.
Print • ∞ Permalink • Comments