27 September 2016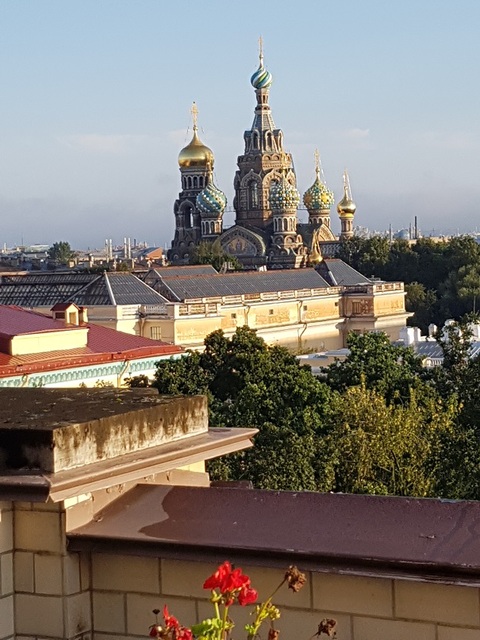 It's a long way to St Petersburg, but as we were in Stockholm, we would probably never be closer again. So we flew in and were immediately daunted by the heavy rain, the grim attitude of everybody (no smiles) and the endless traffic jams. This is a city to visit if you love Russian history and museums.
Personally I am the sort who travels to sit in sidewalk cafes, eating and drinking something delicious and observing the culture of the place as evidenced by passers-by and fellow café dwellers. There's not much of that.
There were some bright spots. Our hotel was fantastic. The Belmond Grand Europe had smiling helpful staff, and our luxurious room with a balcony gave us a breath taking view over the city that included the spires of the Church on the Spilled Blood. The heavy bodyguards sitting in the corridor outside the next door room were a little disconcerting however. We ate well at dinner and the hotel breakfasts were the best ever, complete with a pianist tinkling away on the proverbial ivories. We also indulged in a dinner in the caviar bar that started with three sorts of caviar on blinis with matching vodkas and continued in that vein. Yesss.
The Fabergé Museum is new and exclusive. Only fifteen people are let in each hour and the displays are unbelievably beautifully presented and lit. Taking a guided tour is important as everything needs so much explanation. The Hermitage defies description. Suffice to say if you spent about six months in that huge building you still could not do all the treasures within justice. But it's a bit dingey and dark. The churches are more interesting, especially if there's a service in progress. Several were mind-bogglingly complex.
We also ate the bargain of 2016. Stunning pies (meat, rabbit, fruit and everything else) plus tea for less than $4 at Stolle on Nevsky Prospekt. The sidewalk of this famous street was jammed with grim people, dodging the puddles with about half of them actively smoking as they walked. And we loved a meal in a Georgian restaurant, rather like a pub where puffy Khachapuri bread, dripping with cheese was pulled from the woodfired oven. That recipe will be in next week's Listener and eventually on this website.
Print • ∞ Permalink • Comments