2 August 2016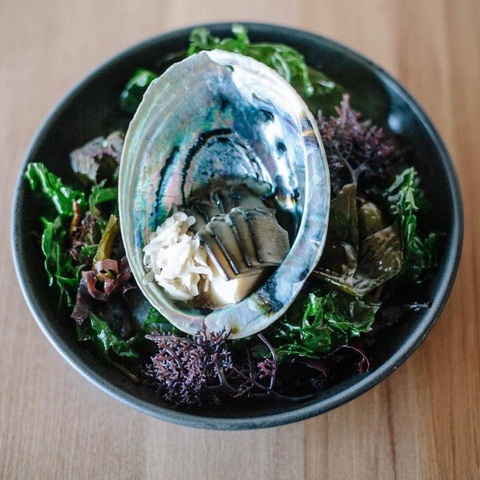 From time to time I go to extraordinary efforts to get to special dinners. And they never disappoint.
Back in May, when Giulio Sturla of Roots Restaurant in Lyttleton announced he was doing a collaboration with an ex-Noma Chef Jacobs Kear, I jumped at that. That involved flying to Christchurch, checking in to the gorgeous Heritage Hotel opposite the crumbled Cathedral (just restore it, quickly!) and then taking the bus from the city's fantastic Bus Exchange. The dinner was extraordinary – a progression of carefully crafted dishes made lovingly from New Zealand's finest fare, and matched to some extraordinary wines. Highlights (the courses were all highlights in their own way) were the kingfish cured in kelp, tiny fermented duck tacos, some ethereal blackfoot paua and egg tofu (pic above) and some extraordinary koji ice cream made with rice. There was a lovely synergy between Giulio's affinity with foraged, native fare and Jacob's superb Japanese inspiration. Dinners like this come by only occasionally and this was a You Had To Be There occasion.
The other standout dinners have both been prepared and executed by Hiakai (Māori word for hungry). Hiakai is the brainchild of Monique Fiso, a young woman who, having worked with Martin Bosley, set out for New York where she worked alongside Michelin starred Matt Lambert at The Musket Room. Monique brings finesse, style and imagination to her interpretation of modern Māori cuisine.
Her first dinner, (both were cooked with Kane Bambery,) was held in Dunedin at Bracken, themed around Southern seafood. Every bite was delicious, and my favourite was a paua porridge with celery cream and puffed barley. The second, held at Merediths, was a celebration of winter gardens. Hiakai's menu included a superb modern Boil Up and a terrific play on Hangi food with chicken and cabbage. But the piece de resistance was native spinach fashioned into ice cream and served with poached rhubarb and rhubarb foam. I am sure they would be all terrified down on the marae, but it was an exceptional dinner orchestrated by an exceptional young chef. Even better it is great to see well established restaurants sharing their premises for occasions like these.
Print • ∞ Permalink • Comments