9 December 2016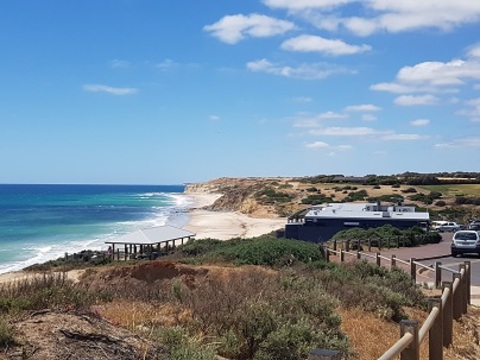 We flew into Adelaide and out of Melbourne, leaving no footprints in either city on what was a rural road trip to explore vines and coast. We planned accommodation ahead (late November is a busy holiday time in Ostraya) and we booked a few terrific restaurants well ahead too. 1000km is a lot of driving, there were two ferries involved and the thing I noticed most as we buzzed along was there is a lot of sky. An awful lot. Because the clouds sit much higher above the land, Australia's skies seem to stretch forever, and can be almost daunting when there's not a hill or mountain in sight. We planned a route that took us through wine country and spent the obligatory two days driving the stretch between Mt Gambier and Queenscliffe that is known as the world famous Great Ocean Road.
Our first two days were spent in the McLarenVale and Fleurieu south of Adelaide, where wine and food tourism is paramount. We tasted wonderful wines at Molly Dooker - hefty reds, Coriole - outstanding gardens, Kay Brothers - a piece of history, and ate at D'Arenberg where the food is top notch modern Australian fare and there's a challenging new building The Cube standing behind the charming original Federation style house and restaurant. We headed down through the Fleurieu next day, gathering great produce, olives and oils and lunched in the historic hotel on Flinders St at Victor Harbour and headed back via Goolwa and the mouth of the Murray.
The outstanding meal in this region was at Star of Greece (pictured above.) The fish was fresh as fresh, the oysters delicious, the food beautifully styled, and the restaurant had that casual ambience where suits from Adelaide can fly in by helicopter as they do to mingle with locals who had their babies in pushchairs.
It was then on to Coonawarra via Langhorne Creek where there are probably more vines cultivated than the whole of New Zealand can produce. It was interesting to see the landscape change. Hilly rainforest gives way to lush green pastures and dairy country, then it's the miles and miles of vines, straight roads through arid almost desert like country before reaching Coonawarra. It is a tiny town where grapes rule. So far from any main centre, this is where Australia's finest cabernet is grown but the township itself has just a post office and a hall. That's all. But we stopped in the historic Wynns and delighted in their range of wines from riesling to reds.
Penola, at the southern end of that incredibly important stretch of vines, is the township was where we slept, and we ate a hearty but sophisticated dinner at the lovely Pipers of Penola, in a converted old wooden church. It seemed half the local wine industry were eating there.
It was then straight out to the coast and onto the Great Ocean Road, via Mt Gambier, a surprisingly large coastal city that has a spectacular blue volcanic lake sitting far above the suburbs. The minute we left South Australia and headed into Victoria we were surprised how much the quality of the road deteriorated. It did not improve until we got much closer to Melbourne, but don't let that put you off. The views along the route far outweigh the bumps and dips!
Spectacular coast, craggy rocky outcrops, well organised tourist centres and beautiful sandy stretches of beach make this drive a must. We spent a night at Port Fairy and another at Apollo Bay. I would love to have stayed at Lorne but there was not a room to be found, even a month out. Port Fairy is another must on this trip. It is historic, it is quaint, it has a ton of interesting walks, and best of all we had our most luxurious accommodation there at Oscars Boutique Hotel and the most outstanding meal of our entire road trip at Fen.
Fen represents coastal lowland and that is where the menu inspiration is drawn from. Ryan and Kirsten Sessions have a deserved Two Hat rating. We enjoyed oyster with sea parsley and blood lime first, then a scallop with lemon and aniseed myrtle before launching into a five course menu at $110 which was worth every Australian cent. Gorgeous fresh sea food from the region, innovative dishes (the surf and turf which was teasingly fashioned from vegetables was outstanding) and clever use of fascinating accompaniments made this a meal to remember. fenportfairy.com.au
After the GOR finished we took a car ferry from Queenscliffe where I would have loved to have Australia's best pie but the parking was completely choked due to a jazz festival. We sailed in to Sorrento on the Mornington peninsular for our final two days with friends and two more superb wine country lunches at Petit Tracteur and Yabby Lakes. Petit Tracteur has the best edible garden I have seen in a winery with food and service that is slightly French and very good. Yabby Lakes make superb award winning wines, and their lovely winery restaurant absolutely screams "Australia." Do not miss either place.
Print • ∞ Permalink • Comments