15 July 2019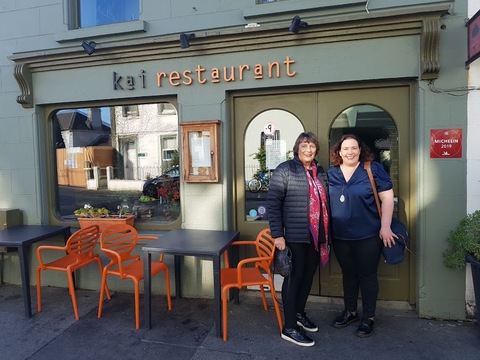 Jessica Murphy must be the current darling of the Irish food media as three of the weekend newspapers we picked up on a recent trip through Ireland carried stories of, or featured recipes, from this extraordinary New Zealand chef who grew up in Wairoa on the North Island's east coast and moved to Ireland 14 years ago.
With her Irish husband David, Jess established Kai Café, an award winning restaurant in the heart of Galway in 2012 and has since garnered attention and won many awards for her fresh interesting food, her championing of outstanding local producers and for embracing the food community with sympathy, love and a huge heart. She writes a regular column for the Irish Times, sits on various committees related to Irish food, and travels to food events and gatherings all over Europe.
Kai Restaurant sits at the end of a row of joined-up shop fronts. Like almost all quaint 'high streets' in Ireland, each property is painted a bright colour and Kai presents a soft green façade to the street. On Sundays the queue for Kai's brunch marches past the print and design shop, the laundrette and the excellent food emporium Ernie's, all of which Jess patronises for her business. It's a very close community, and with limited space in the Kai kitchen, it's likely that the ice cream and other frozen specialties will be stored in a neighbouring shop.
Customers arriving for coffee, lunch or dinner at Kai, experience a great Irish welcome, albeit with that pronounced Kiwi accent that Jess has never lost in her 14 years in Ireland. "Hāere Mai" proclaims a sigh over the kitchen door, and a large photo of a beautiful wāhine has pride of place on the restaurant wall. It's a portrait of her great-grandmother Marguerite Lockwood of Ngati Porou, taken in 1895 when she lived in Tolaga Bay.
Earlier this year after working with UNHCR, the UN Refugee Agency, on the 2018 Refugee Food Festival, Jess had agreed to travel to Lebanon and Jordan to meet with refugees to document some of the food heritage that risks being lost after eight years of war. After the Christchurch terrorist attacks she was more determined to go than ever, thinking, "This could happen here too."
Her experiences there were profound, strengthening her belief that food is the one subject that transforms and transcends borders. After sharing stories, recipes and meals with many exiled people, she's put a book she was writing of her own recipes on the backburner, and is working hard to collect refugees' recipes for a fund-raising book and hopes to publish it by Christmas.
We shared dinner with Jess, eating from her delicious menu of fresh, tasty fare including some great Irish fish garnished with tiny local mussels. Kai's menu changes each day, hand written by Jess herself every evening just before service. Almost all restaurants in Ireland serve soda bread. Kai's version was the best we had in almost two weeks of touring. The dark, moist chewy bread is really easy to make but is best eaten the same day. It can be made into delicious crunchy toast. And it wouldn't be Irish unless accompanied by lashings of the sweet, salty butter that is so, so good.
KAI CAFE AND RESTAURANT, Sea Road, Galway, Ireland
Print • ∞ Permalink • Comments