12 May 2018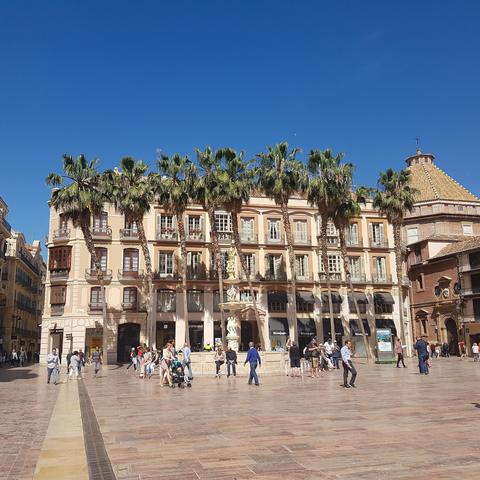 Often overlooked, Malaga is a truly lovely city in the south of the Spanish Mediterranean coast, probably only on many folk's itineraries for the airport which is the gateway to the Costa del Sol. We drove on the Mediterranean Highway to reach the city from Granada and it was a notable drive. Notable for the spectacular tunnels and viaducts that were carved into and over the landscape, and even more notable for the sheer number of hideous highrise apartment blocks erected far from the sea. (We do not know how lucky we are in NZ!)
We stayed at the Parador de Golf Malaga, a 20 euro taxi trip from the city centre, and relaxed in sunshine, hail and fresh air (we were under the approach path to the airport but got used to that quickly.) The parador was almost halfway between Torremolinos and Malaga and it is an easy walk along the beachfront to some quaint fish restaurants and cafes on the beach. The golf course was excellent, as was the hotel restaurant.
Spanish hotel breakfasts are magnificent – everywhere hotel we stayed in had an extensive buffet of local specialities including jamon, cheeses, fruits, sausage and hot food, along with a huge selection of breads and the usual breakfast suspects like muesli and yogurt.
To explore Malaga, we took another Devour Spain walking tour. We met our guide, the knowledgeable Hannie, in the central Plaza Constitution and had her to ourselves for the Best of Malaga Foodie Feast & Cultural Tour. There was also a 'free tour' starting there with at least 100 people who had shown up for. Forget that! Like other Southern Spanish cities the buildings and culture dates back centuries with Romans, Moors and Christians successively stamping their mark on everything from architecture to food. Malaga however owes a lot to the Phoenicians who as far back as 800BC mined metal in the region, preserved fish in salt and brought grapes to plant here from Asia. The Romans brought the wine barrels and the Moors brought the almonds (yum), citrus fruits and spices that still predominate today.
Places to check out: Café Central where tourists eat outside and locals eat in. Great coffee and snacks. Don't miss the Mercado Ataranzas where you can feast all day on wine, tapas and local specialties and buy all sorts of food from fish to vegies and spices. Pop into Antigua Casa de Guardia for a couple of glasses of wine served straight from the barrel and eat at Meson Mariano. The food is fabulous, no surprise as Mariano selects his ingredients daily at the market. If you like cars, don't miss the Automotive Museum, (Museo Automovilistico) which combines some of the most collectible historic cars from 1900 to the eighties with fashion of those times.
Make sure you eat local specialties like the Moorish influenced albondigas in an almond and saffron sauce, and the fried custard (leche frito) with turo icecream.) I cannot emphasise enough how worthwhile and excellent those Devour Spain walking tours are. I learned so much about local food. The company was cofounded by James Blick, a kiwi who went to Law School in Auckland with my son. The tours are offered in San Sebastien, Barcelona, Madrid, Seville, Granada and Malaga. They are all culture and are very food-based and you must arrive hungry as they are truly generous.
www.devourtours.com
Print • ∞ Permalink • Comments