28 May 2012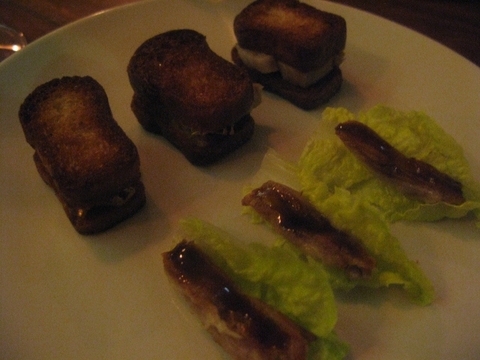 Pictured above is spiced duck tongue in baby cos leaves and a knuckle sandwich made from a miniature brioche loaf stuffed with pork knuckle and a herbal jelly. These were just two of the palate tempting tasters brought to our table when we arrived at the hottest new restaurant in Sydney, Sixpenny.
Sixpenny is a tiny corner restaurant in suburban Stanmore, a leafy suburb to the north west of Sydney University, and is owned by two passionate guys, Daniel Puskas and Jimmy Parry. The pair, so proud of their food, carry much of it directly from the kitchen to the table – made easier by the fact that there are a mere six or seven tables and the menu is either a six or an eight course dégustation. Reservations are increasingly hard to come by as right now Sixpenny is the name on every Sydney critic's lips.
I have never eaten a meal before where almost every course was white. White food on white plates. But this was food so delicate, so tender ad so innovative that the lack of colour didn't matter a fig; it is food to swoon over. After our 'tasters' we were plied with a well conceived menu designed around superb produce from not only Sydney's best suppliers, but with veggies and fruits from the chefs' own garden in Mittagong, which I believe is quite a distant drive away.
Blanched but crisp onion 'shells' were drizzled with a light broth that was strongly cheddar cheesy in flavour. It was light-as-air food that signalled the inventiveness in the kitchen. We then enjoyed crab cloaked in a silky camomile and macadamia sauce, a delicate salad of juvenile leaves from the Mittagong garden, fresh NZ (!!) snapper in pumpkin seed cream with meltingly soft leeks, a nugget of tender pork on a creamy smooth sauce, some hanger steak with pale smoky cabbage and tiny micro mustard leaves and finally three desserts. All milky white. The sour lemon stuffed with a citrusy sorbet was sharp and refreshing, but the piece de resistance (and there was no resistance) was some Jersey milk ice cream with burnt butter. Heaven!
I specially loved the opportunity to chat with the chefs as the meal progressed, and would go back in a heart beat.
Sixpenny, 83 Percival Rd, Stanmore Sydney 2048 T 02 9572 6666
Print • ∞ Permalink • Comments