7 August 2012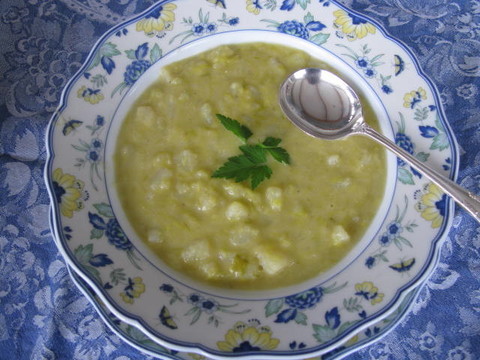 I have always thought food writers, cookbook authors and television cooks have a big responsibility as we are paid to encourage people to cook. And the better we can make that food, the better and more healthy our readers and watchers will be. So it annoys me that some writers look for gimmicky stuff, rather than what I'd be so bold as to call real cooking.
Food prepared in a minute with cans, frozen packages and not a skerrick of fresh stuff in sight? NO! A whole book of meals with three ingredients? NO! What about meals under $5? Maybe. Four ingredients? NO! - Well, er, um, in the last case, I have just had to eat my words.
I have just finished my lunch and it was the silkiest, tastiest soup I have eaten in ages. I wanted something warm and filling, and I found a potato in the larder and from the fridge a leek, some duck stock I had made over the weekend, and the remains of a carton of creme fraiche I had needed last week for a photoshoot.
Four ingredients (plus condiments), a little chopping, half an hour simmering and hey, presto, my soup. Here you go:
1 large leek, chopped into small dice
1 large potato, peeled and diced
500mls duck stock
2 tbsps creme fraiche
Heat 1 tablespoon olive oil in a heavy pan, add the leeks and potato and cook gently until wilted. Add the stock, bring to a simmer and leave over the heat for 20 minutes. finally add the creme fraiche, stirring in well and season to taste with salt and pepper. Serves 2. Utterly delicious!
Print • ∞ Permalink • Comments