17 May 2012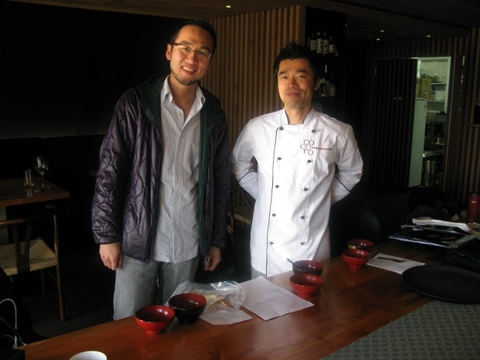 At the Auckland Writers & Readers Festival event, High Tea at the Langham,a question was asked of our food writing panel who were discussing the 'Generosity of Food.' "What do you all eat while you're writing?" Our answers varied from nothing to a cup of tea and snacks. Personally my favourite is miso soup, made with miso paste and dashi stock. I love that umami dimension that comes through the savoury nature of this light broth.It's so comforting.
So I seized upon a brand new product at the Wellington Food Show last weekend. A young Japanese chef, Takehito Maeda and his wife have spent the last seven months perfecting miso paste. It is the first miso paste to be made in New Zealand, made from Motueka soy beans and Marlborough natural sea salt. The process Takehito uses involves fermenting the beans for almost six months and it is unpasteurised. They market it under "Urban Hippie" brand.
Such is the power of social media that Ricky Lee and Makato from the highly rated Auckland restaurant Cocoro noticed my tweet about this miso and asked me for more info. So I took the packet I had purchased over to them and Makato whipped it up with dashi stock for us to taste-test it. Cocoro imports an organic miso from the USA and so we tried both; the American miso was good, but the new product that I had purchased form Takehito at the Foos show was very good, we all agreed.
We loved the texture, loved the saltiness and the subtle flavour, and I will be ordering more. I hope Cocoro does too!
If you want to try this miso, call Takehito on T 021 031 3527 or email him info@urbanhippie.co.nz
(Pic is Ricky and Makato tasting the miso at Cocoro)
Print • ∞ Permalink • Comments