27 October 2016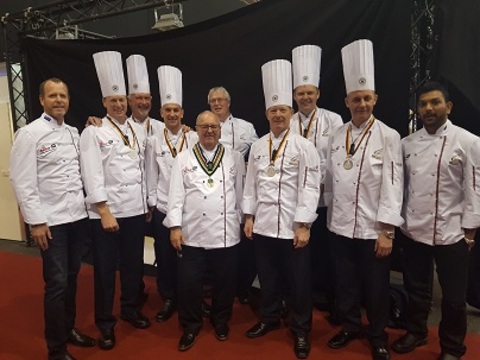 The logistics are almost overwhelming and certainly our New Zealand Anchor Food Professionals Culinary Olympic team probably had not only come the furthest to Erfurt, Germany, but had to cope with all sorts of hurdles like transport from their base 70 minutes away, access to kitchens and an absolutely bare bones number of helpers. Some countries had brought a veritable army of support.
But the Kiwis put their heads down, cooked their hearts out and proved their worth. The dinner that came from the hot kitchen was delicious. Salmon starter, lamb main and a dessert that was inspired by Pacific flavours. The judges and lucky diners obviously were very impressed. The team won Silver.
They also won the hearts of many, and attracted television crews and much other media attention. And they're bringing home two bronze medals and a very worthy and admired silver.
Congratulations to each and every member of the tiny team, and also to the sponsors whose faith has been rewarded.
Print • ∞ Permalink • Comments